Attorneys & Counselors at Law
Since 2015 we've been here to serve our clients with the expertise, knowledge, and understanding that everyone deserves.
Our team can assist with all legal issues and has a large breadth of experience, both legal and personal.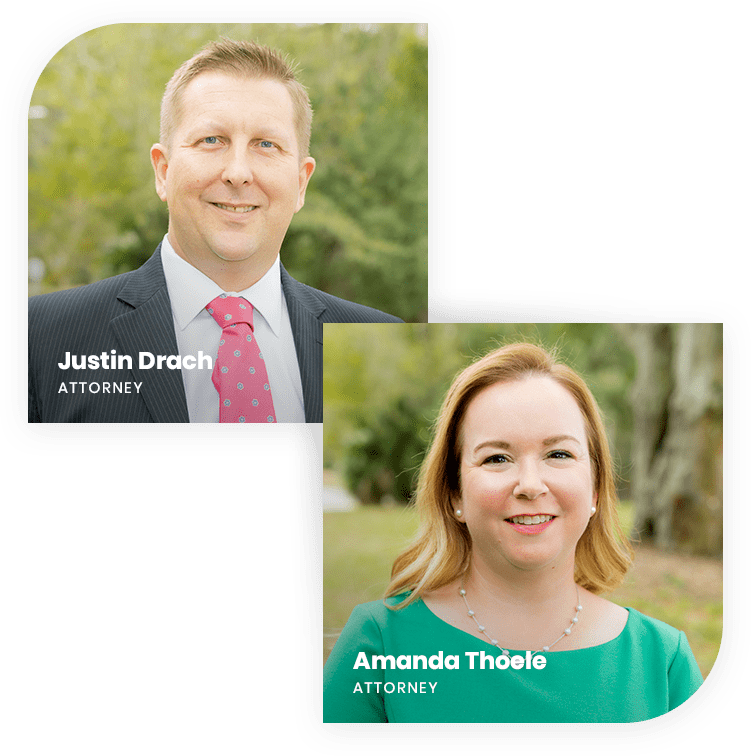 University of Florida Levin College of Law, J.D.
Emory University, B.A. in Political Science
Member of The Wolfson's Children's Hospital Women's Board
Member of multiple Pro Bono law associations
Amanda Thoele is a Jacksonville native and is dedicated to serving the Jacksonville community. Amanda decided to become an attorney because she enjoys helping others. As a law student at the University of Florida Levin College of Law, Amanda served as Student Works Editor of the Journal of Law and Public Policy and represented family law clients as a certified legal intern in the Virgil D. Hawkins Civil Clinic. Currently, Amanda assists clients with personal injury cases, debt collection defense, and creditor harassment cases. Amanda is also actively involved in the community.
Amanda has represented clients ranging from individuals to some of the largest banking institutions in the country. Amanda's litigation experience and strong negotiation skills allow her to obtain favorable results for her clients, whether that means litigating a case to trial or negotiating a strong settlement. Amanda is also a creative and detail-oriented planner which allows her to tailor each case strategy to the individual case. Regardless of the type of case Amanda is handling, she takes the time to listen to and get to know each client because she believes it is her responsibility to meet her client's needs with the highest level of care and individualized attention.
Memberships & Court Admissions
United States District Court, Middle District of Florida
Member, The Florida Bar
Member, Jacksonville Bar Association
Member, Jacksonville Justice Association
Regent University School of Law, J.D.
Naval War College, M.A. National Security Studies
Webster University, M.B.A.
The Citadel, B.S. Business Administration (Accounting)
Naval School of Aviation Safety, Aviation Safety Officer
Citizens Commission on Human Rights of Florida – 2017 Humanitarian Award Recipient
Board Member – Greater Jacksonville Area USO
Justin Seth Drach is a former Naval Aviator with more than ten years of military service. Justin has experience flying combat aircraft such as the S-3B Viking, T-45C Goshawk, and the F/A-18C Hornet. His aviation and leadership experiences have taken him all over the world and have given him valuable insight into your unique problems. The common theme of Justin's professional life has been service.
While in law school, Justin served as a supervised practicing intern for the Office of the Federal Public Defender in Norfolk, Virginia, even winning his first trial. Justin has worked on criminal cases of national and international significance to include the Somali pirate cases among others.
A tenacious and aggressive litigator, Justin serves clients with attention to detail, searching for creative arguments and solutions to position the client for the best possible outcome. Justin's skillful ability to negotiate a favorable settlement or prevail at trial helps his injured clients get back to their lives and achieve a sense of normalcy as quickly as possible.
Memberships & Court Admissions
Member, The Florida Bar
Member, Jacksonville Bar Association
Member, Jacksonville Beach Bar Association
United States District Court, Middle District of Florida
United States District Court, Northern District of Florida
United States District Court, Southern District of Florida
Member, Jacksonville Justice Association
Member, Tailhook Association
Member, The Citadel Alumni Association
Get started with a free, no-obligation consultation
Our Paralegals and Support Staff are Here for You
Courtney Turner
Legal Assistant
Here's why you should choose our injury law team.
There are many personal injury law firms, but here's why we're your best choice.
NO FEE GUARANTEE
We're here to make your life easier in a difficult time. There are no fees unless we win. You'll never have to pay out of pocket.
GET IMMEDIATE HELP
When an injury happens, we move fast. We have an aircraft on standby to fly to you and clients throughout Florida. We're aggressive and prompt.
DON'T SETTLE TOO FAST
At the "Big Box" personal injury law firms, you're just another number. They want to settle and move on to the next case. Not here; we'll fight for your maximum compensation.
OVER 107+ FIVE-STAR REVIEWS
Check out our online reviews to see what our clients say.